2018 Mint 400 Johnny Angal #63 Trick Truck Race Report
p/b Polaris RZR
We all know the race really starts long before the actual race with preparation. So, lets start way back at the end of the first race of the year, the parker 425. If you follow these reports then you know at race mile 66 we hit the Terrible Herbst truck that had hit the cow on the race course. It took us out of the race. I tore the tie rod mount off the front spindle, bent the lower a-arm, tore up the front brake caliper and did some other damage that would need repair. We got on it and got it all fixed, right? No. The real behind the scenes shit you guys never heard about was after we hit the truck and turned the motor off it would not restart. It was a relatively fresh motor with about 600 miles on it. We run them around 1500 miles before we pull them out to be rebuilt. But as we learned later this motor had something in the number one piston that would not let it turn over. We had to pull it and put our spare motor in. So, we get done with everything and we are a couple of weeks ahead of schedule.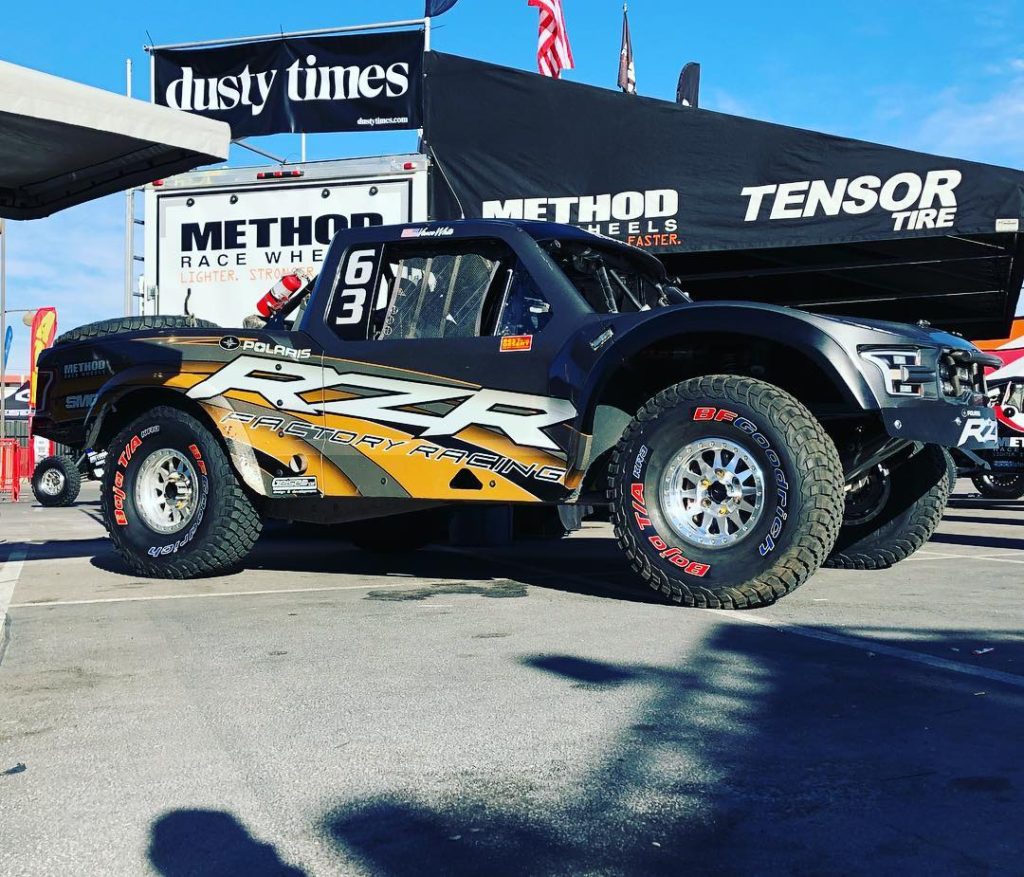 After we swap motors we go to our motor builder in Vegas to dyno the motor in the truck and ensure everything is running right. I then tell my guys "Hey! Let's take the truck to Primm and do a shake down run to make sure she is race ready!" … This is where the shit gets good. We head out to Primm, unload the truck and Vance and I start driving it around. Keep in mind we are not at race speed. But we are having fun and being in the truck, playing around with no pressure is a ton of fun! We are doing 127 mph across the dry lake bed and loving it! We get on another dirt road and a bunch of birds fly up in front of us and one comes flying thru the front and hits the side of my helmet and commits suicide, lol! I just smile and push the gas. Its chilly out the temp, 34 degrees and overcast, but all is good. Then as fast as the miles of smiles came they left! It was like the truck dropped into neutral and the transmission torque converter temps skyrocketed. A quick 'oh fuck' entered my mind and yep it was over. We had no transmission or underdrive. Something bad happened and my chase truck was on the other side of the desert. We call Craig who was in the Chase Truck and told him where we thought we were. I tell Vance I will start walking to the main road to lead Craig in to where the truck was broken at, so we could put it on the trailer. You notice how I mentioned the temperature earlier in this story? Yah, it's because I only had a light jacket and my racing gloves on and it was kind of cold. I started walking and came across the race course. I walked down it for a while chucking huge rocks out of the way so on race day I could fly thru that section. Well after about 30 minutes of that bullshit I looked up and thought to myself 'damn it's cold'. The sun is going down fast, and I better stop fucking around and walk a bit faster, lol! I get to the main dirt road and the first car to me slows, asks If I'm ok, I say "Yes I am fine, my trucks coming." But to tell you the truth I just didn't want a ride from the guy and his big ass dog that was climbing all over the front seat of the car. So, I keep walking and let me tell yah, I am an engine guy… this walking bullshit is, well… bullshit! LOL! The next car that pulls up to me is a guy in a truck, he stops and asked, 'What's up?' I tell him my truck is broken and ask if I can get a ride out to the main road next to the highway. He says, "Sure throw that stuff in the back of the truck." I thought 'Is he talking about all the garbage and food wrappers on the floor… or the 5 gallon bucket on the seat?" Might be faster to not clean his truck and just keep walking, right? So I move the 5 gallon bucket and jump in. We chat it up, he's a nice enough guy and he gives me a ride to the main road. I thanked him and on down the road he goes. Now I'm waiting for Craig to show up and am now hanging out with a guy that was testing his quad. He is loading up and getting ready to leave and I think my guy Craig might never find me as I told him to go down the wrong road. So, at this point I ask this guy for a ride … didn't your parents ever tell you not to pick up strangers, LOL? He kindly obliged, we head down the road that my chase truck should be on and yup, there it is! I thank this guy, jump in my chase truck with Craig and blast the heater. We head towards Vance and the broken truck. It's now dark out and the truck says its 30 degrees. I am hoping Vance is still alive, I call him and tell him to turn on the lights, so we can drive out to him. We winch the truck up onto the trailer and head home. It was a long day and we didn't get home until about midnight.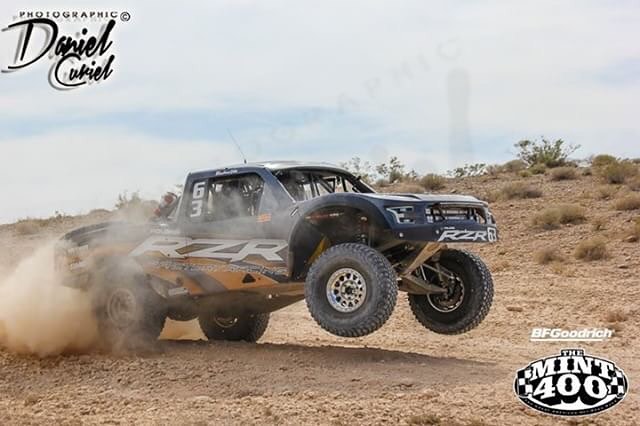 After we get back and start digging into the truck we discover what the problem was. We had broken the new under drive unit we just had installed. I call Geiser Brothers and tell them about it, he calls the manufacture and they said they would stand behind it. Geiser Brothers tell me they would loan me one until the new unit shows up. I was thankful for both of these guys and so I order a spare unit just in case. This is racing by the way, and anything can happen. The underdrive uses transmission fluid to oil it, so when the underdrive broke it sent metal shavings into the transmission, the torque converter, the transmission coolers and lines! So now we pull it all out, send the transmission out to be rebuilt – once again, and the coolers and lines out to be professionally ultrasonically cleaned. Our next race was The Mint 400 and I didn't want to take any chances. We went over the whole truck, two more times, making sure everything was fresh and ready to race. We got everything back the week before the race and I had the transmission shipped 'Next Day Air' so we would have it Friday to install over the weekend before the race to be able to go back out for a shake down run. Well low and fucking behold FedEx lost the transmission the same day. Yes, you read that correct, they lost it. A transmission. Not a small 4x4x4 box like you would think, but a fucking transmission. Yeah, I have a spare race transmission, but it was also still getting rebuilt at the time and some other upgrades done. I have a spare, spare, transmission but it doesn't have all the "good parts in it" so I didn't want to race on it. And top it all off, I'm slowly getting a cold and I feel like shit, but we just push forward. We get the transmission on Monday (…way to go FedEx…) and get the truck back together, get the chase trucks loaded up and Wednesday morning we head out to Vegas. We also have a new single seat Polaris RZR RS1 that we built some custom one-off parts for while all this other stuff was going on, and we must deliver it to the Polaris display at The Mint 400. So, yah, it was quite the busy week we had and I'm now sicker than a dog? Is that actually a thing? Do dogs get sick a lot?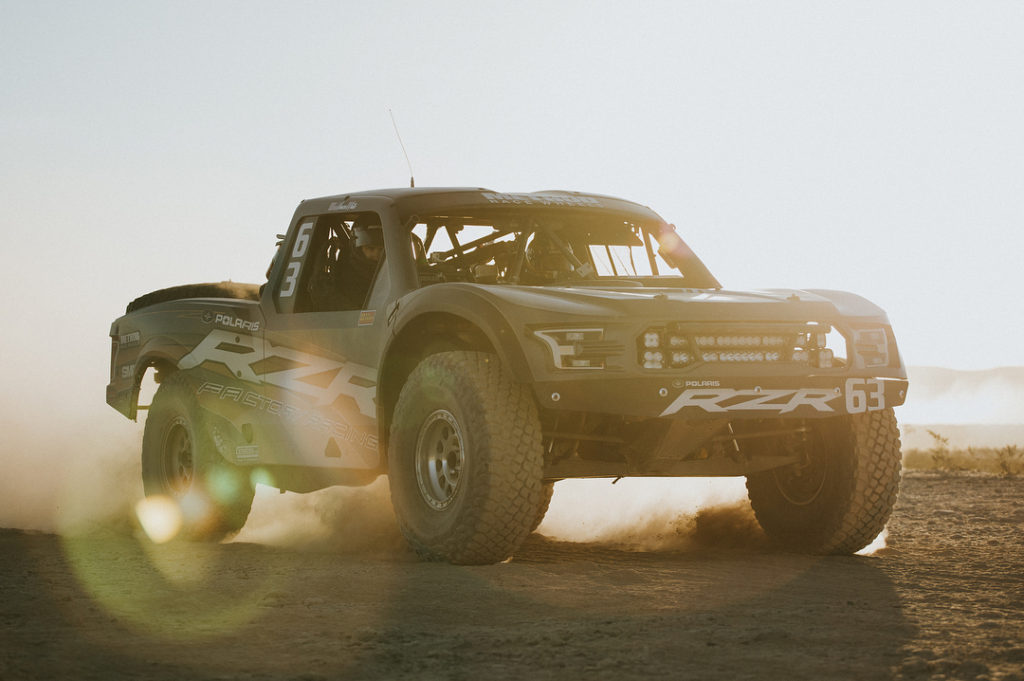 We finally arrive in Vegas, deliver the RS1, the truck is dialed, and I'm sick. We qualify tomorrow, and I suck at qualifying, I say this every race but it's true. Most guys hope for a top 10, while I am over here dreaming of a top 20! On top of qualifying I was asked if I would give 2 or 3 special guests of BFGoodrich Tires a ride in the truck. I of course said yes. We qualify, and I felt that I did really good and went faster than I've ever went before. But, I also felt like that before I qualified for Vegas To Reno and I was 38th place for that, so, yah, I suck at qualifying and didn't get my hopes up at all. As we sat there waiting I had the pleasure of meeting Kurt Leduc and listening to some of his stories and history. I just love that shit. The history is unreal and the things these guys know from a life time offroad racing is just amazing. We have to wait all day and I am still sick, still feel like shit when finally, the 2 or 3 people I promised to give rides to, and 2 people turned into 5 people by the way, show up. I took all of them for quick rides pounding thru the desert and had a blast! Seeing their faces when we were done was priceless, lol! Lot of grins and smiles of amazement!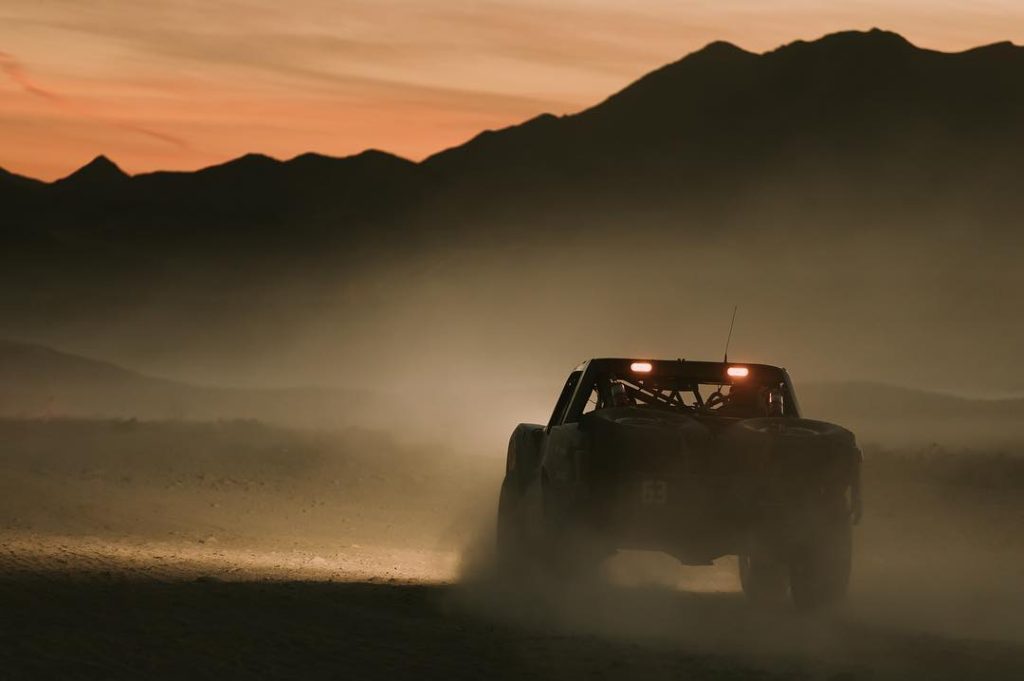 We head back to Vegas to get cleaned up for the parties and yep I still feel like shit. All of my friends are telling me I'm not going to be better anytime soon. Jesse Jones was just getting over being sick one ups all of them and tells me "Yup, next you'll get the shits too, so good luck on race day!" … lol … The shits? I think to myself 'I'll be in the race truck for 6 hours with the shits? Why did he have to say that?" I just couldn't imagine that but also know… shit happens!!! LOL!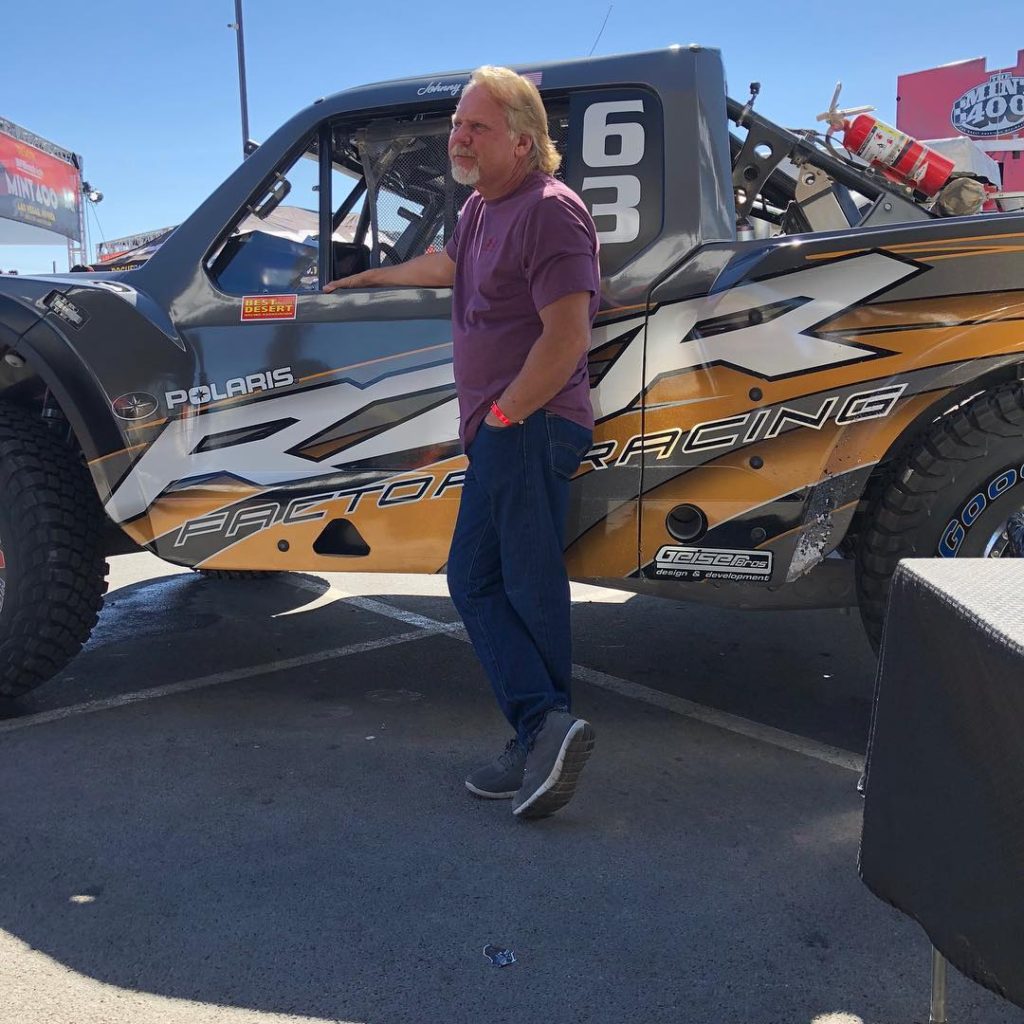 We find out we qualified 21st out of 60 bad ass seasoned racers so now I am excited! Yea it's not a top ten but I'm learning and getting faster! Friday is contingency, and you know how much I hate standing around waiting but it's a must do. I wake up on Saturday and yup, I am still sick, however I feel really, really, good.  You know why? Fuck you Jesse Jones! I don't have the shits!! HAHA! We don't start our race till 1PM so we have a lot more waiting going on, but we finally line up at the starting line and I am ready to prove to myself and do this this!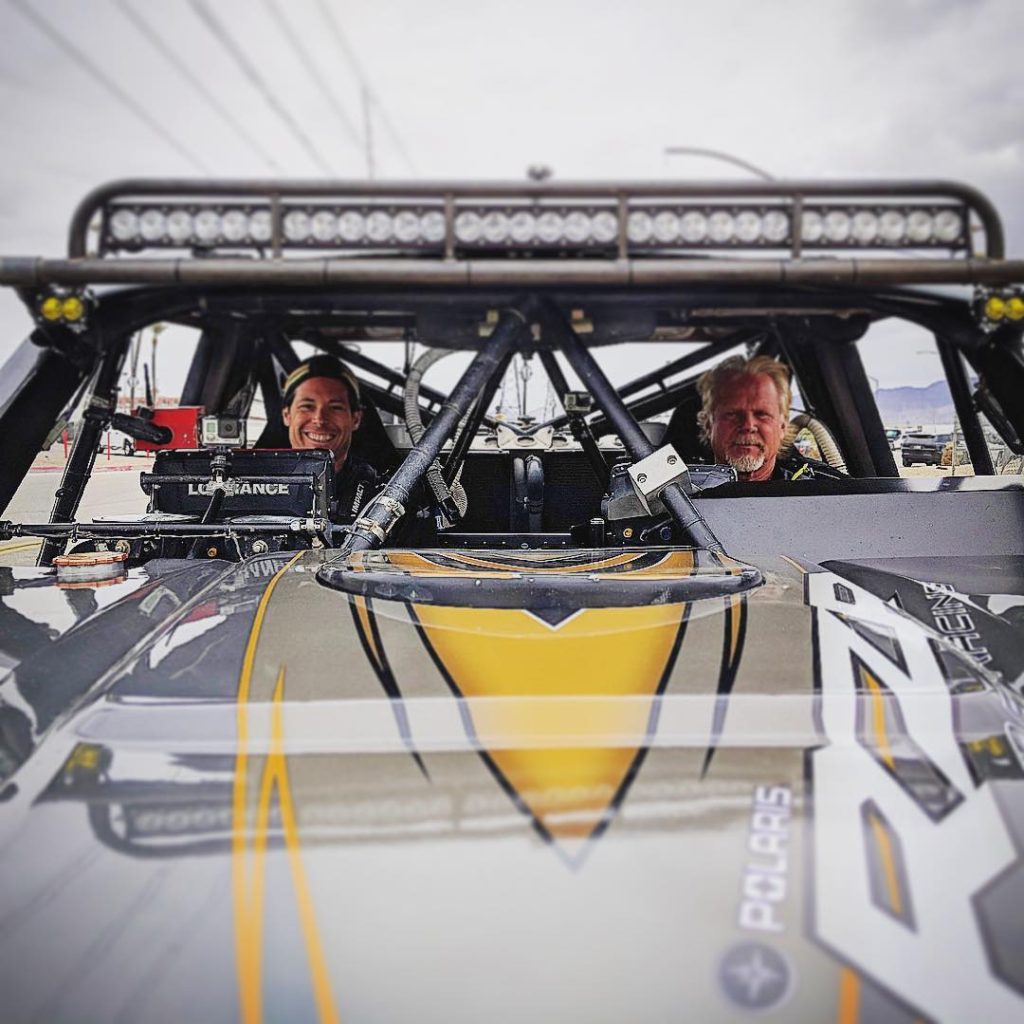 Bam! We are off the line! I'm side by side with the truck next to me into the first couple of corners and then he finds a little hard pack traction and slightly pulls me on the next corner. We stay on his ass while getting pummeled by huge rocks and I back out of the gas a little to try and stay clear of them. We fly into a bunch of tight corners then there is a long straight where I know I'll pull him! I hammer down but I'm not making any ground. I tell my Co-Driver Vance the truck isn't making full power and feels like its dragging. I notice its only pulling 6600ish RPM not 7500 RPM that it should be. Vance tells me "Well it is soft out." … ??? … What the fuck??? I think to myself 'I'm the driver, I know its soft out, but that should make it spin the tires easier and we should be making full power here.' Oh well, it is what it is I guess, we have a long way to go and a short time to do it. We go thru a bunch more of this stupid short course, man-made, bullshit race course, then thru a speed zone across the bridge and I am still right on this trucks ass that started ahead of me. As we come up to the 'resume race speed' section he floors his truck and I floor mine! We start getting blasted by rocks and gravel again. I watch one fist sized rock fly right towards Vance and it shatters our GoPro case. We watch our GoPro fly thru the air and most of the big stuff is just beating the shit out of Vance. I am smart enough to put my side off the truck off to the left to keep myself out of the way. I don't lift at all, but I still don't have 100 percent power. All of the sudden, BOOM! An asteroid of a rock hits me and flies off my helmet. It unplugs my radio cable, so now I can no longer hear Vance talking. I am in shock thinking 'Now I have to go 400 miles with no communications with my codriver?' I also think "Hmm, well now there is nobody to tell me the dirt is soft!!!" LOL! I slow down and manage to plug my cable back in but nope, still can't hear him, nor can I talk to him. Not that I talk much during the race anyway so does he even know I can't hear or talk to him? I start watching his hands and race on. I'm not happy but nobody is going hear me complain now. Oh yea, it's also sprinkling out, so I have a microfiber towel in my hand constantly wiping the lens on my helmet, and trying to drive, and shift, and go fast… damn this is going to be a long race. I'm kind of surprised I am railing corners fast and feeling that I'm even faster not knowing where I'm going! I'm feeling pretty good on one long section that was very rough. I held the truck floored and let her eat but our top speed was only about 105mph. We should have been seeing 120 mph plus! There's that lack of power thing again, or was it just soft? We hit a couple of rough sections and the truck seemed to drop into neutral and our race was over at mile 27. The transmission was gone. My spare transmission was done but the torque converter wasn't back yet, so we never picked it up. Our race ended and with only myself to blame. Everybody we work with went above and beyond to get us to this race. I'm not bitching or complaining about anybody, just handing out my side of the story the best I can.