Polaris RZR / ITP Tire Mint 400 Race Report
by: Johnny Angal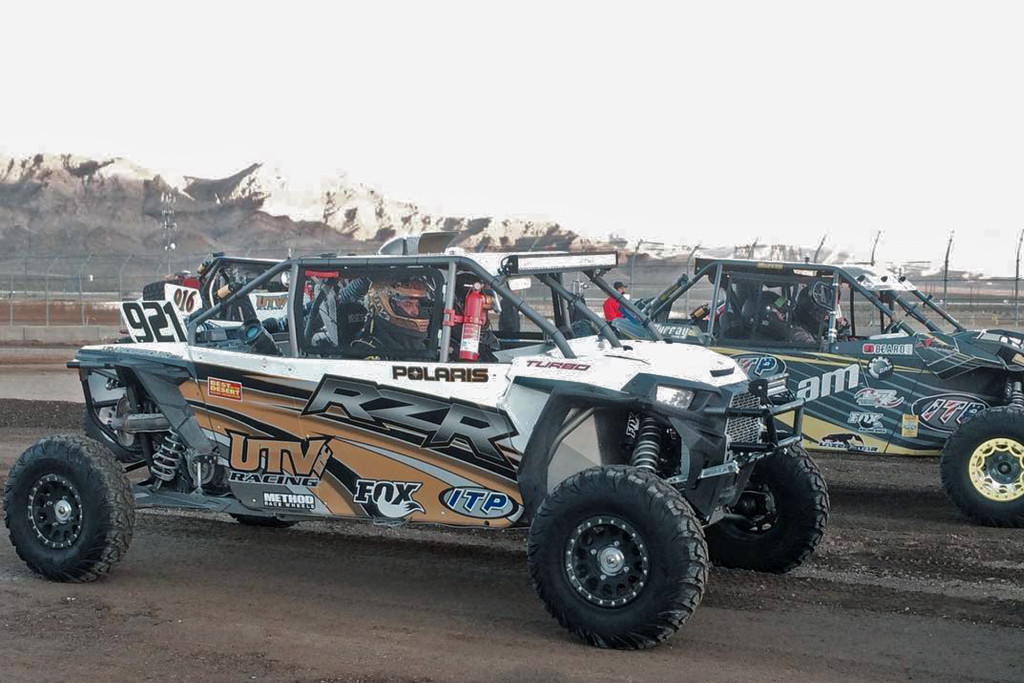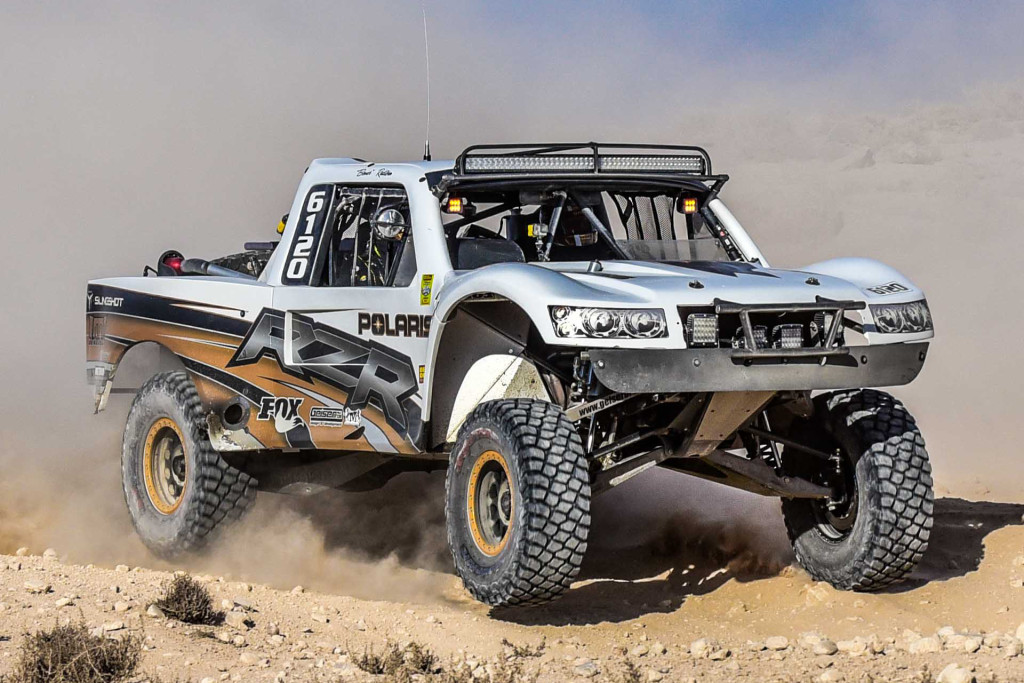 The Mint 400 has a deep history in off road racing. It started in 1967, before most of you were born, so it has to be as they call it "The Great American Off Road Race". Top name racers and movie stars alike have raced it and new great racers and movie stars are added to the list every year. It's a huge race with a parade down Las Vegas Blvd, parties, Pit Crew Challenges and a contingency day like no other. There are hundreds of parts vendors as well as tens of thousands of racing fans and non-racing fans that show up to check out the goods.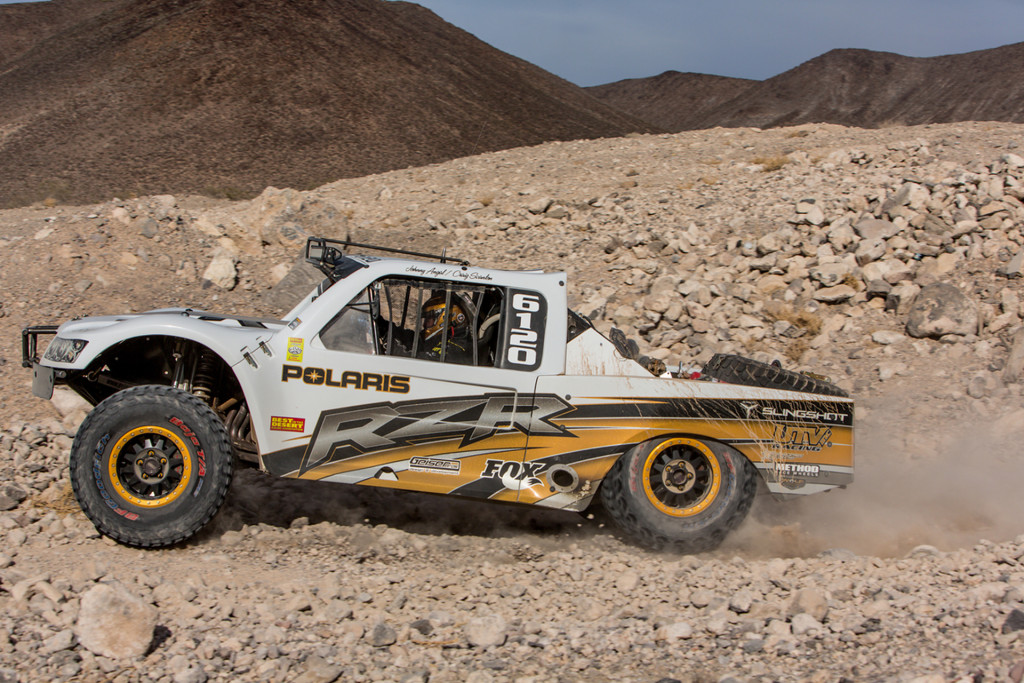 So as we prepare for the race, which we are going to be racing our Polaris RZR XP4 Turbo race car and our Geiser Bros. Spec Class Trophy Truck that is also Sponsored by Polaris. With the way the desert combined with some aggressing driving tears up our equipment, we have A LOT of work to do to get ready with only a couple of weeks to work on the RZR, Race Truck, Chase Trucks and a crew. Not an easy task for our small crew but everything is slowly coming together except for a few custom parts we are waiting to come in for the RZR. We are supposed to load up and head out on Wednesday but the parts don't make it so we hang tight and the parts show up the next day around 8am but we still need to install the and test drive the car a bit. We do this and get loaded up around 1PM and head over to Jalapeno Bucks, a new little BBQ and Mexican take out place we found in Mesa AZ. We had an awesome lunch and talked with the owner and his Brother a bit. After a few good laughs and them wanting to tag our race trailer with Jalapeno Bucks they hooked us up with some burritos and chips for the road trip. Super nice of them and if you're ever in the neighborhood you should really try it out. Awesome brisket sandwiches and a red chili shredded pork burrito that is to die for!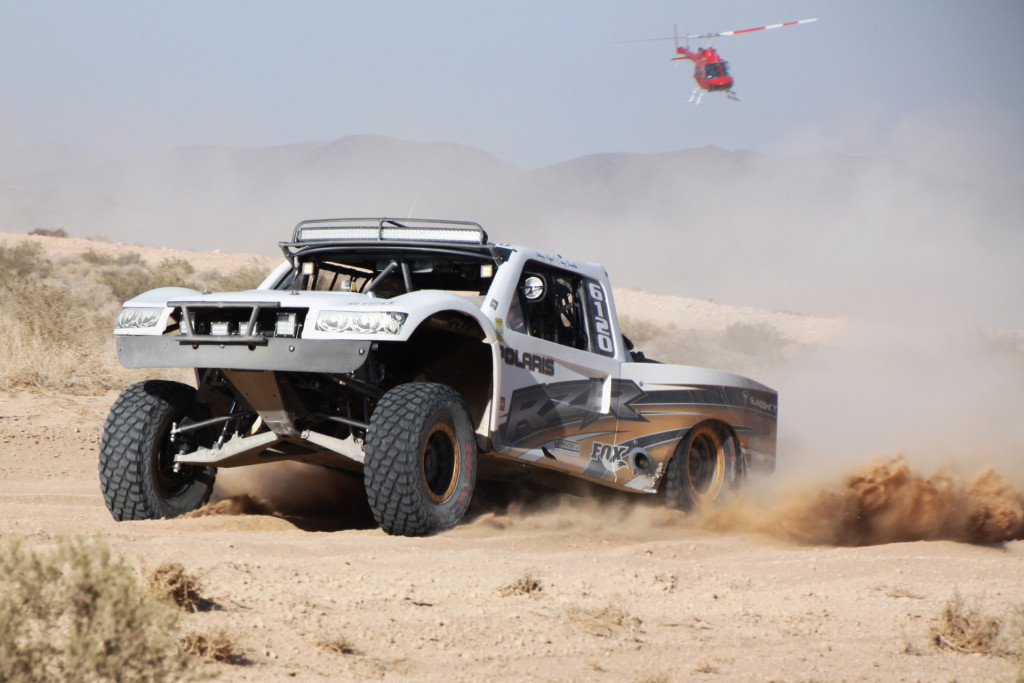 Anyway, we make it to Vegas around 6PM, get checked into the hotel and head out on the town around 10PM. We make it down to the end of the 'Pit Crew Challenge' and bull shit with friends and then head over to the bar. A little something about myself that I have learned is that I shouldn't drink more than once or twice a year. It's just not good for me and I have a tendency to just do stupid shit when I am drinking. So I just hang out. We decide to walk over to a bar called 'Hogs and Harleys' or something to that effect and on the way we come across Dustin Jones. He is a fellow UTV racer who just happens to be talking to a smoking hot blonde whom I leaned over to and whispered in her ear "I see you have met our gay friend". I then ask her if she 'wants to get married' or simply just wants to have an affair. So now we have added Dustin, her and some of his crew to the group as we continue into the bar. It has got to be sometime around midnight. We make it there and at the door I get carded! Once inside it's a freaking mad house. Stupid music blaring, shoulder to shoulder standing room, fuck this… I am in! I order a beer and after thinking about it for about a minute I order another. After a couple of hours of that I head out to see the guys. They are slinging dice at the craps table at the Golden Nugget. I see a friend and sit down for a couple of hands of black jack which does not go well for me. So I head over to the craps table where the guys are hooting and hollering like they just won the lotto and I get excited too! I look down at the table and see a bunch of $5.00 and $10.00 bets. This is when I realize they are all just drunk! It's 3AM now so I head to the room to get a couple of hours of sleep before I have to take the truck over to park it in contingency at the Polaris Booth. A couple of hours later the guys get the RZR and head thru the 5 hour long contingency line.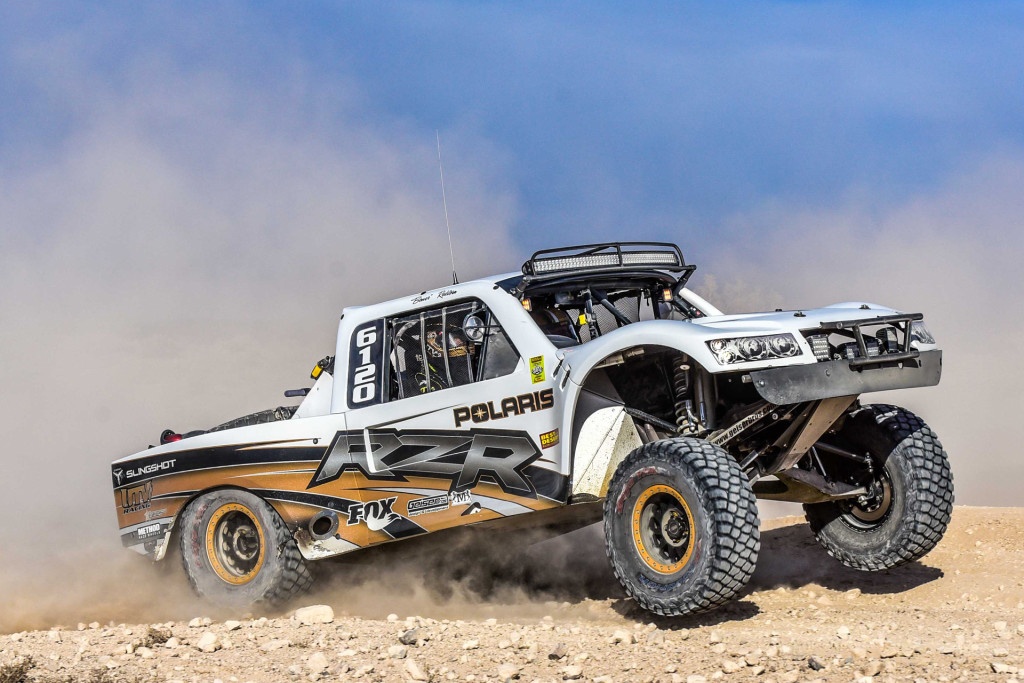 It's now around 4:30PM so I pull the truck out of its parking spot in the Polaris display and head thru the line. All goes well and it only takes about an hour and a half. We load the truck up and we leave 3 guys there to go to the drivers meeting. The rest of us head out to the pits in Primm, Nevada to get everything fueled up and ready. We have to line up at 5AM for the UTV Race. We get done and head to the hotel around 10PM. I set the alarm for 4:30AM and it comes way too soon.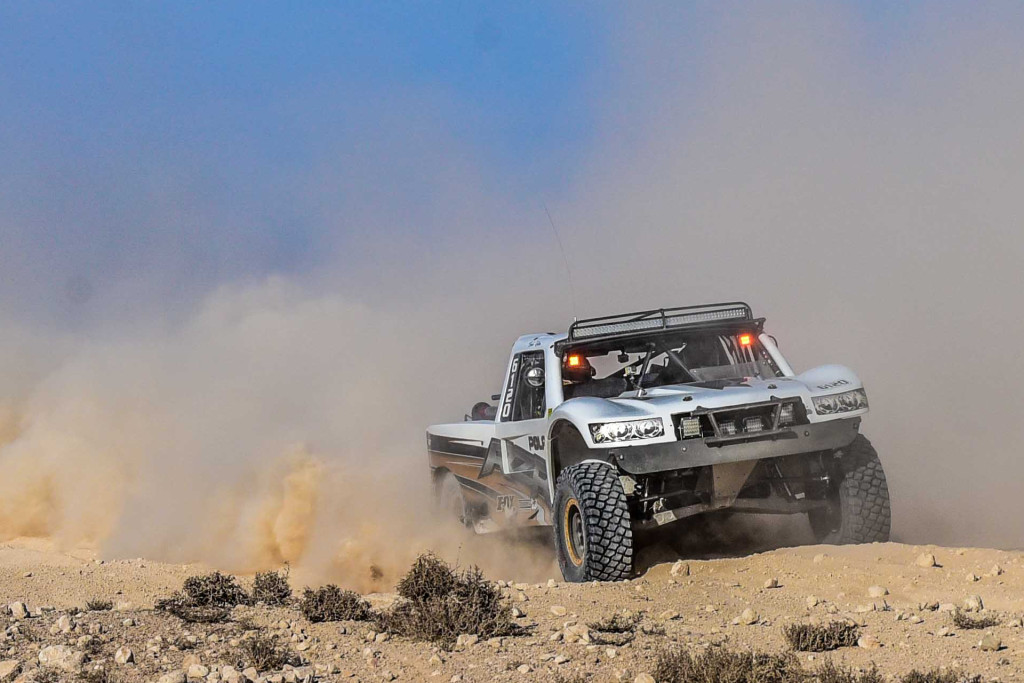 I suit up and head out to the pits. I'm pretty excited about this race thinking that our race RZR is the best it has ever been. I am ready to win! As we pull up to the starting line and flip on our 4 wheel drive switch we get a check engine light. We are pretty well screwed at this point and can't do anything about it in the next 20 seconds or so before we get the green light to take off into the desert. Boom, GREEN LIGHT, GO!
We are off! As we make our way out of the soft infield the rear tires are spinning like crazy. We are bouncing off the rev limiter but we still got the hole shot. We start passing people in the sand wash but it's not long before the strain on the rear axles. Without any help of the 4 wheel drive it's just too much for the car to take. We snap both rear axles at the same time! Boner, my co-pilot, jumps out to see what's going on. He tells me "broke both rear axles".  We are half way in the middle of the race course with 50 or so UTVs, Trucks, and Buggies coming our way! Well, we put in the spare axle and just didn't have enough traction to even move the car with one wheel drive. So we had to wait, stuck half way in the middle of the race course while cars and trucks are bouncing off my RZR, for the Best in the Desert Rescue guy to come flip us around. So we head back down the sand wash and this whole time besides being embarrassed, I am thinking to myself: I have a top of the line bad ass race car and I could have taken a bone stock factory RZR and probably won this race but my bad ass piece of shit race car only went 5 miles before I was out of the race.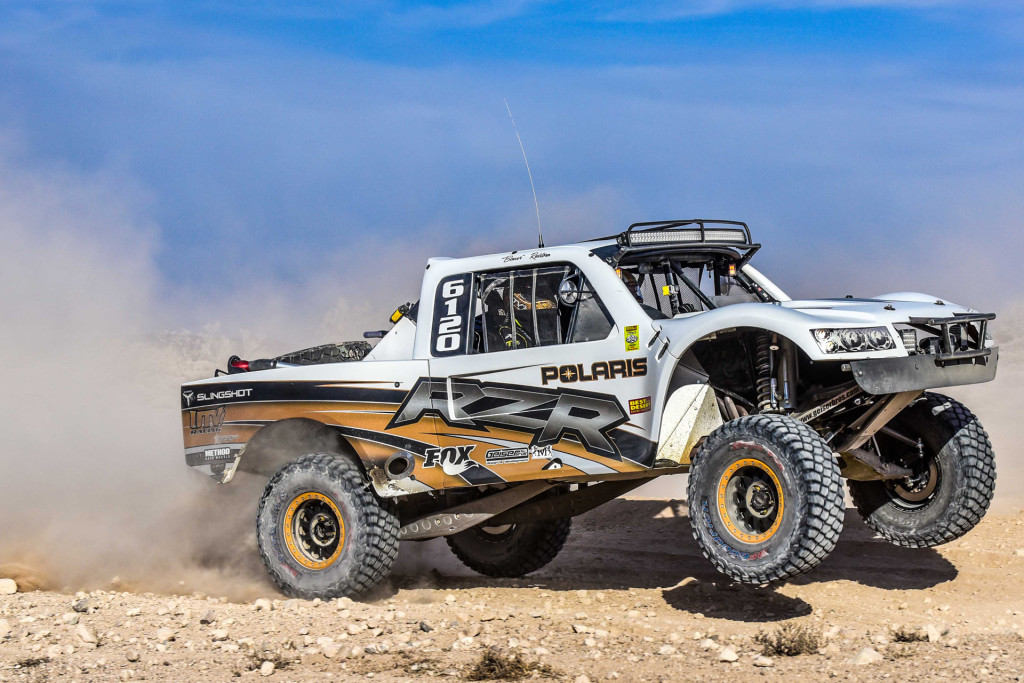 Now, we are back in the pits and I am guessing it's around 8:30AM. We are going to race the Spec Class Trick Truck and we are supposed to line up around 11AM. We are scheduled to start at 12:30PM but that really means we start around 1PM after the Unlimited Trick Trucks and Class 1 Cars. It can't come soon enough because waiting really sucks! As we are waiting my buddy Marc Burnett, who is racing a RZR comes into the pits and one of his transmission seals had popped out. His guys ask if I have a spare transmission, hell yes we do! My guys and I go over to help him start doing a transmission swap. As some of you know Marc and I had a bet that if I won (the RZR race) he owed me $1000.00 and if he won I had to get rid of my long 80s haircut. LOL. Well as we got into the transmission swap I told Marc 'If you want us to keep helping you to beat me, then the hair cut deal was off!' He needed the help so he reluctantly agreed and we got it done. Now the truck plan is that Boner and I are going to race the first two laps and Craig and Keith are going to do the last lap. Now I got to tell you I have only raced the truck once at the Parker 425. We have a little testing seat time but I am a newbie and kind of nervous. Again, we didn't take any short cuts, so I feel confident we can get it done. As you know that doesn't mean shit at this point since we were prepared and only made 5 miles in the last race. That is pretty shitty, no, really shitty!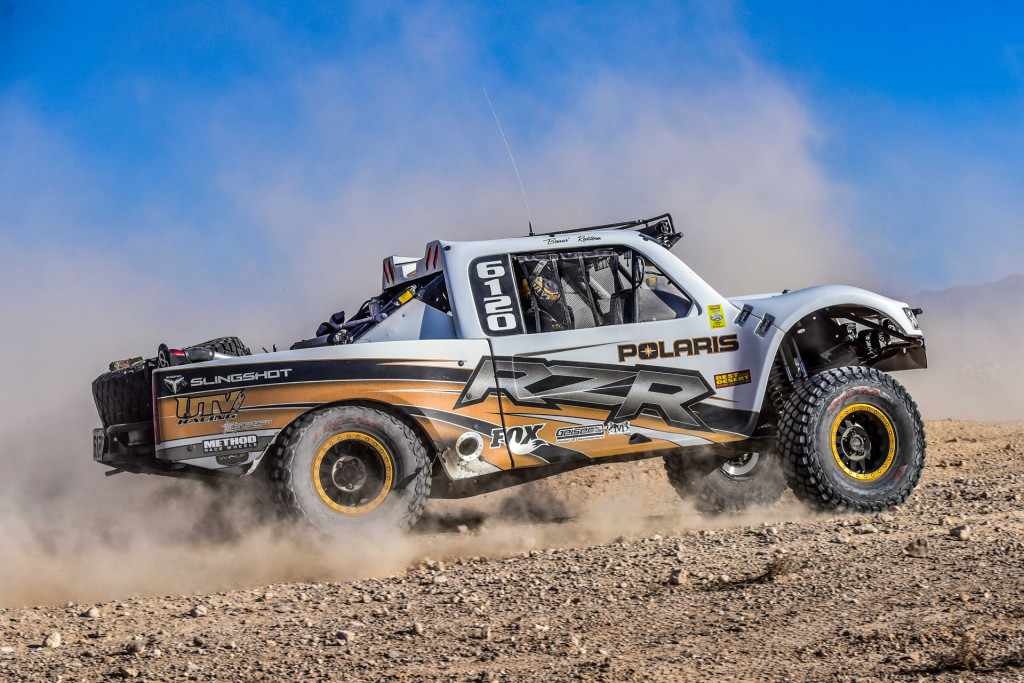 We line up in the truck and after a while we are up to the starting line. We are starting 8th and the guy on are right is 7th. We get the green light and get a slight jump on the truck next to us and I think 'Woohoo we are now in 7th!' He is no slouch and right on our ass leaving the infield. Coming up next is a 25 MPH section that has to be 3 or 4 miles long and he's right behind us. I am not too far behind the two trucks in front of me and as we get to the end of the speed zone I floor the truck and it roars to life. We start flying up thru the wash I think we pass a truck or two in the next few miles. We start pulling on two trucks that are ahead of us and next thing you know we come around a corner and there is a spare tire in the middle of the course! I guess the Mills truck nerfed the Banning truck in front of him a little hard and knocked his spare tire off. Next think I know we are behind Banning and as we catch him we see his co-driver signal he sees us behind him so we wait for him to move so we can make the pass. Just as he starts to pull over I tap the brakes and the truck behind us hits our rear bumper and knocks our spare tire off. We didn't know it at the time we start charging hard and see the Sourapas truck pulled over with a flat tire. Well that good because the kid is fast! We keep going and pull behind the Mills truck and after a hard left he passes a class 1 car and as I pass them he sees me and pulls to the side so we can get past. In the next 4 or 5 miles we catch the up with the truck running in third but because of bad dust and rocks I can't get close enough for a pass. I'm thinking at this point he is in 3rd and when we pass him, hell yes, we will be in 3rd! A few minutes later we get a flat tire and we pull over. Boner jumps out and comes back to the window and tells me we don't have a spare. So I tell him to jump back in and let's see if we can get to the pits. We only make it to the next check point, we jump out of the truck and the course workers (what a great bunch of guys and gals) tell us if we can get tires to the spectator area they will go pick them up for us. They also offer us water, hot dogs, anything and everything we need, thank you guys so much for all the help! Well an hour and twenty minutes later our two tires and some water for the radiator show up. We get it buttoned up just as the first 4 trick trucks fly past and I tell Boner hold on because we are in front of about 50 cars that can do 130 plus MPH. So we start flying and the Mad Media helicopter starts flying next to us as we fly thru the Fox Shox Proving Grounds. A little after the proving grounds the heli is now on my side and we are a little off the side of the course trying to pass another 6100 truck. As I look at the heli Josh is waving at me so I take my hand off the wheel and give them the bird! It was so much fun we were haulin' ass and the truck was perfect. As we finished the first lap and headed to the pits going into a large berm I screwed up and rolled the truck over on the roof. We lost another 1 hour and 40 mins but our awesome crew and friends helped put the truck back together. Craig and Keith jump in and started railing the second lap and making up time. They also had a flat and brought the truck back in to the pits mostly in one piece. Craig had got side swiped by a trick truck taking of most of the driver's side fender. As they came in I told them to stay in the truck and do the last lap. They said the course was beat up and they were good, LOL. So Boner and I jumped back in and headed out for the last lap and boy was it brutal! Spots that we were doing 60-70 MPH the first lap we were now doing 25 MPH with cars, trucks, UTVs, tires and body parts littering the course. We finished 13th out of 37. I'm not sure about the rest of the guys but I had the best time of my life. Even looked over at all the damage at the truck and it didn't matter at all. I knew we tore shit up but it was totally worth it! You cannot buy memories like we had just experienced.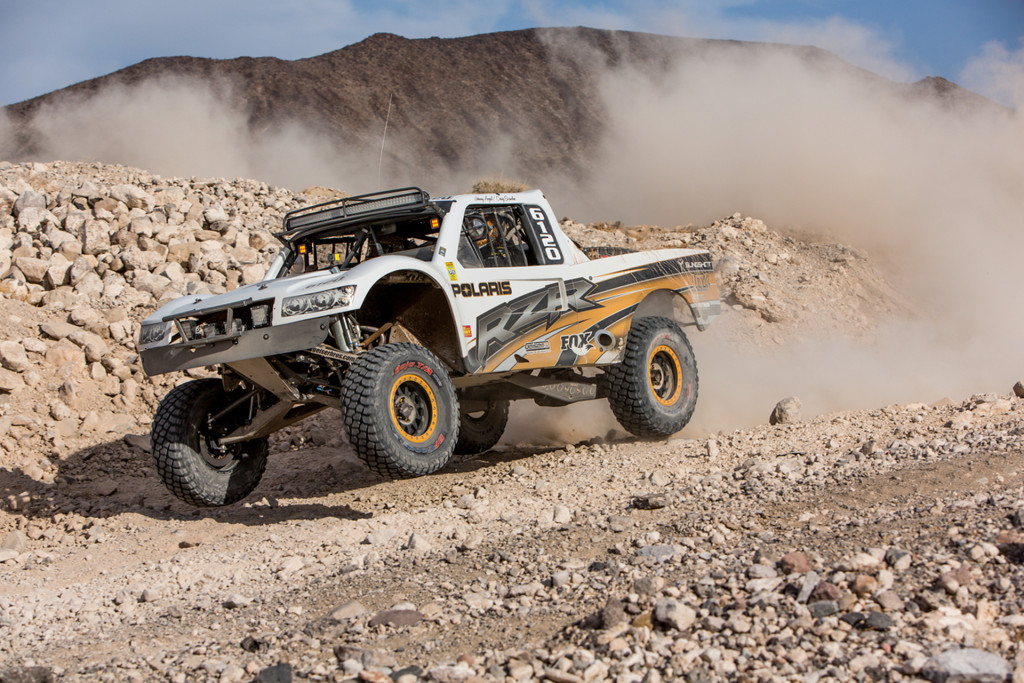 I'd like to say thank you to all our great sponsors! The awesome guys from the Mills Motorsports Racing Team for all their help and their chase crew! All my awesome friends from the UTV races that helped and supported us at all the races!