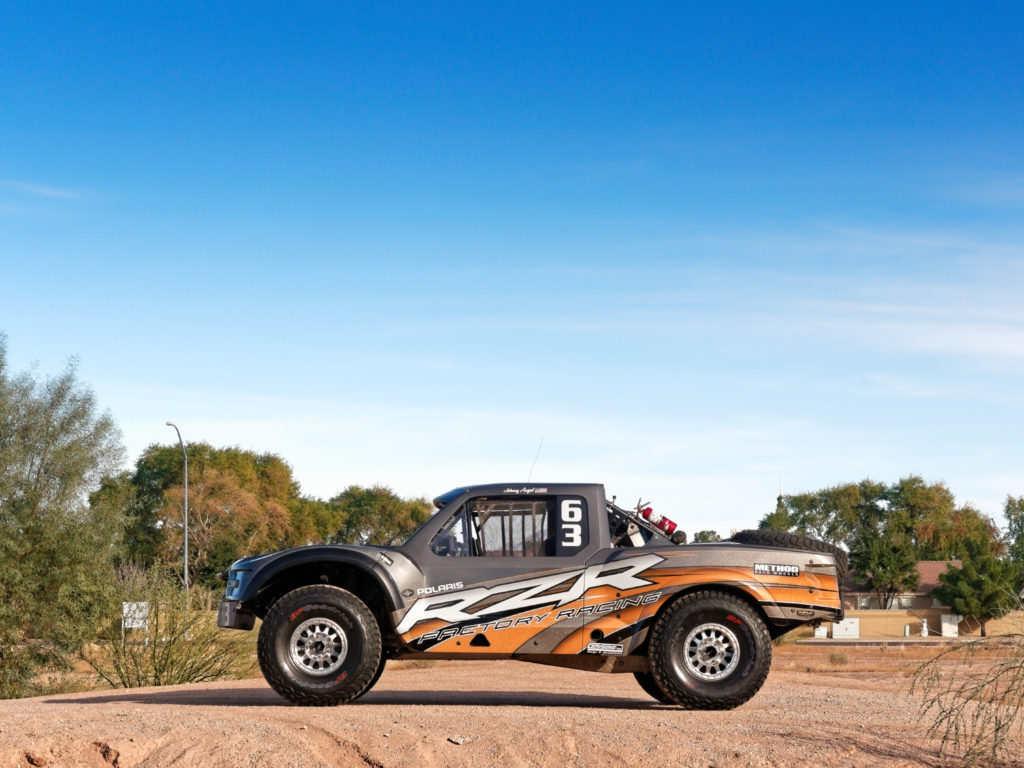 Polaris RZR Factory Racing
Well after a kind of disappointing 2017 Best in the Desert race season in the Trick Truck 63… we missed two races last season just because life got in the way. You know divorces have a way of screwing with your mind, that's why you have not seen a race report from me lately, but yah … anyway … We raced that Snore Rage at the River at the end of the year and had a blast! We finished the race in second place and I was starting to feel good in the driver's seat.
With the Parker 425 coming up I turn the truck over to Geiser Brothers to install an underdrive, new rear end housing, new Lowrance GPS units and cut the front of the truck off and rebuild it. It was still really tweaked from when Boner made me wad it up when I first bought the truck from Jesse Jones. I get the truck back from Geiser Bros and we still have a million things to do to get ready. I say WE, but I really don't do shit as I really leave most of it up to my new navigator, Vance White, and he gets the job done!
We pull into Parker a day early and set up camp. We are also saving space for Jesse Jones who is going to be my back up driver, also his son Austin will be racing his first ever 6100 Trick Truck Race. The next day, Thursday, is qualifying. Boy do I hate qualifying, I suck at qualifying… but it is what it is. I just know I need to work harder and eat more dust to get up front in the race. Now that we have the underdrive on the truck and I started working with SDG shocks to get the suspension to work the way I want I am not scared!
So here we are lined up for qualifying and we are off, lol, yah… off… I kind of blow the first berm and get way to high. It really slows us down for the next mile or so as it is all hard packed, big berms and big tight corners. I suck at this type of stuff, but we have no choice except to keep on it and we finally get out of that shit in into some fast, rough sections. As we go up Shea Rd we are now hauling ass 100+ mph and the truck is feeling great! We hit the next corner a little slow but that's fine, it has cones on the inside and outside of it that we can't hit, or we will get a penalty. We fly around the next left hard then it is wide open to the first jump! I tap the brakes right at the top and we fly thru the air. To say it as simply as possible, IT IS BAD ASS! As we land the truck starts rebounding and the front of the truck starts pulling a wheelie. I am thinking to myself 'that was so bad ass!!!' Oh yaaaaahh!! Huge smile on my face bad ass! We hit the next few jumps and over the radio we hear there is an accident on the course. We skip the last jump and I hear it was Jason Voss behind us. I continue to practice a bit since we were going to get a do over… A do over, lol? Well I ended up qualifying 30th, that sucks but that's what it is.
It's now Friday and the day to roll thru contingency. Vance and I head over to the Impact Racing booth to get measured up for new race suits. Everything thing goes well but I am disappointed that we found out Vance's biceps are 1" bigger than mine.
Saturday is race day, but we don't start till 1:30 in the afternoon. So, it makes for a long wait… You know how I feel about hurrying up and waiting. We finally pull up to the starting line and we are next… 30 seconds to go time… Bam! Green light!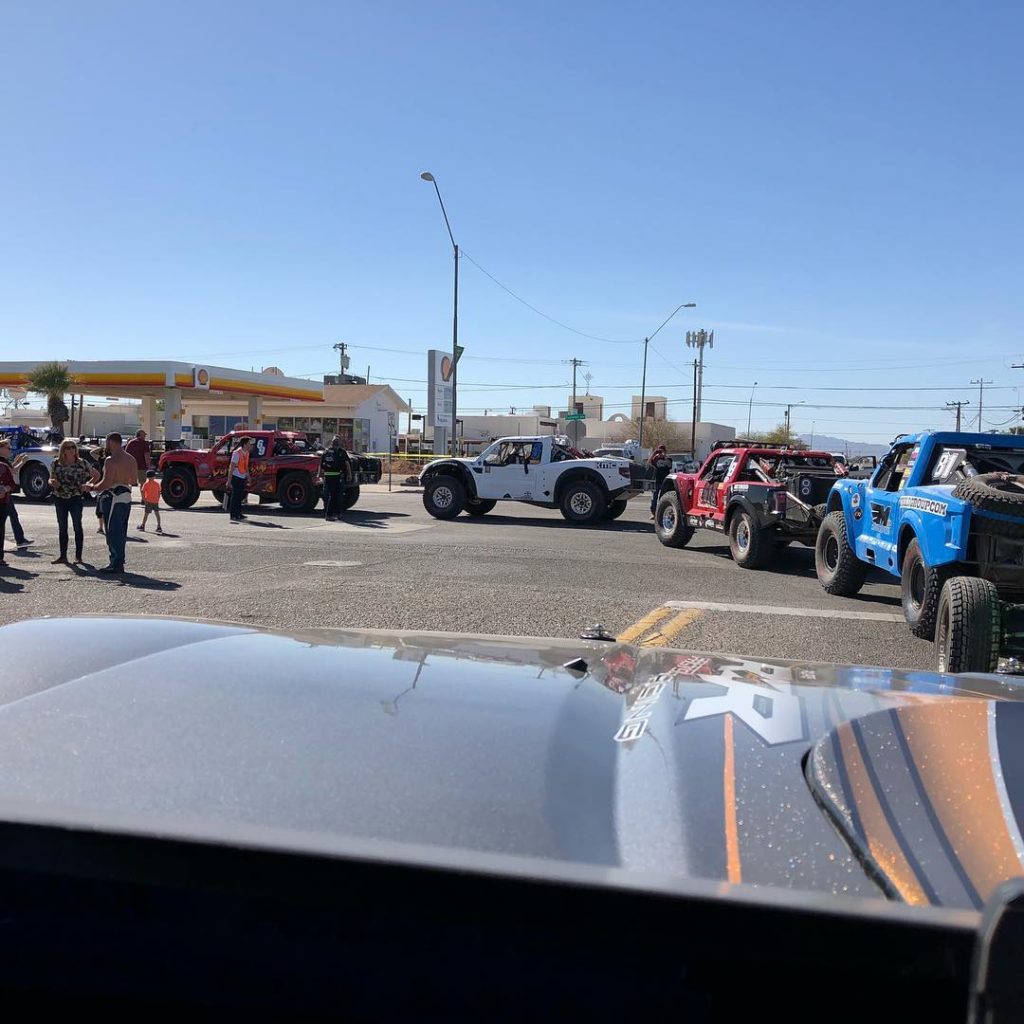 I smash the pedal to the floor and the Kroyer Racing engine comes to life!! OOOHHH YEEEAAA!!! 472 cubic inches of gas guzzling, fire breathing, hell to the tune of 2 MPG comes to life and shoots us off into the desert! After the first couple of corners I take a breath…
Ease the seat back, she's blinding, I'm flying, right behind the rear-view mirror now, got the feeling, power steering, pistons popping, ain't no stopping nnnooowwww!!!! Oh shit, sorry that's Van Halen…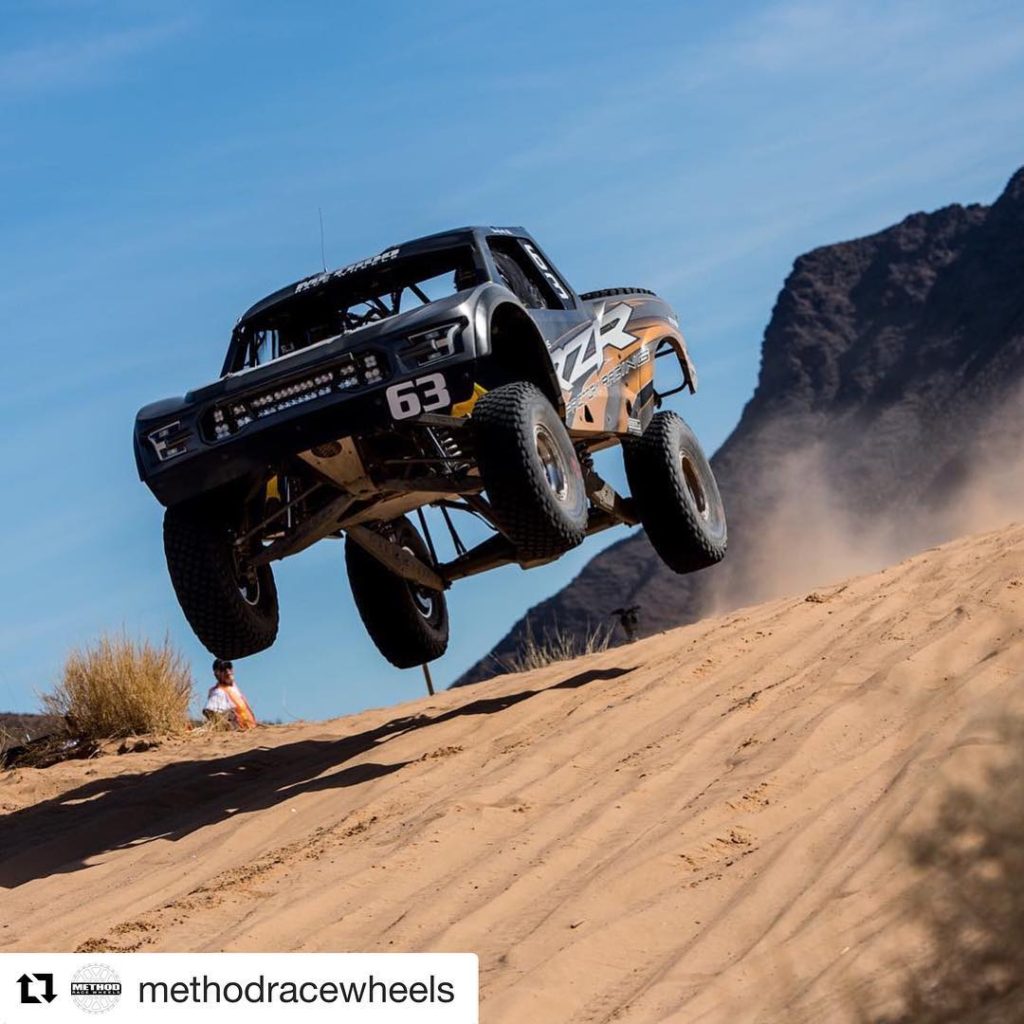 Now back to the race report… I settle in and lift big time on the two Shea Rd spectator jumps that have huge woops after them. As we drop down the hill and into the wash we are already in heavy dust but I am feeling great and the truck is working and running great! We are running as safe and as fast as we can. We pass midway pit and go into a section I am comfortable with.  We were getting it!! We drop down the long wide graded road section and when the dust allowed I was sliding the truck around the corners and thinking to myself 'I am not Robby fast, but I am getting faster.' As we drop off the graded road we hit our first section that we get to do 110 mph in. We enter and pass pit two and there is the Class 1 car that we have been eating dust from forever. I am like "Game on fucker!" 10 to 15 turns later I am ready to pull him in for the nerf, but he shoots to the right on the course and I shoot to the left, we take an outside line and get to pass two cars!! Woohoo!! Clean air!!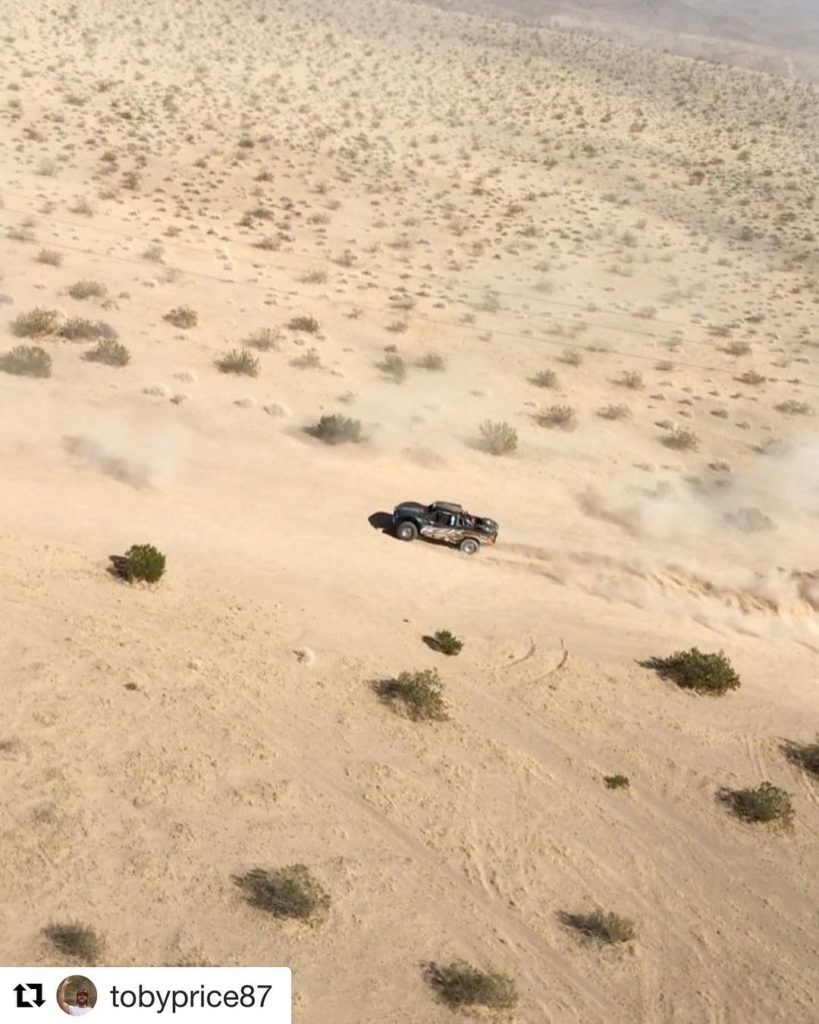 I start driving the truck hard and now I am chasing down the helicopter. I start giving them the bird and the race is on! I hammer down and speed off past the Heli, see yah! We have a couple of 120+ mph sections and start rolling into dust from the Trick Truck we are now catching. The dust starts getting really heavy, so I back off a little bit and just then the air clears as if we have an angel watching out for us. My eyes get large and there is a Trick Truck completely sideways across the race course! I crank the steering wheel hard left and get on the brakes a bit. I cranked hard left because I would have hit them on my side of my truck if I didn't, and that wasn't of any interest to me, so hard left it is and watch out Vance, here it comes! BBBAAAAAAMMMMM!!!!
It was not as bad as I was expecting…?! Vance starts yelling at me "Go!! Go!! GGGGGGOOOO!!!!" The truck is pulling very hard to the right. I pull over and tell Vance "Get the fuck out of the truck ASAP before somebody hits us too!!" We bail out of our truck start to get off the course as much as possible. The driver Christian and co-driver John of the Herbst Truck (the one we hit) come running over to check on us. We tell them we are good and have to ask "What the fuck happened?" They give me a quick rundown of their wreck. They hit two cows and started rolling at over 100 mph! We couldn't believe the carnage.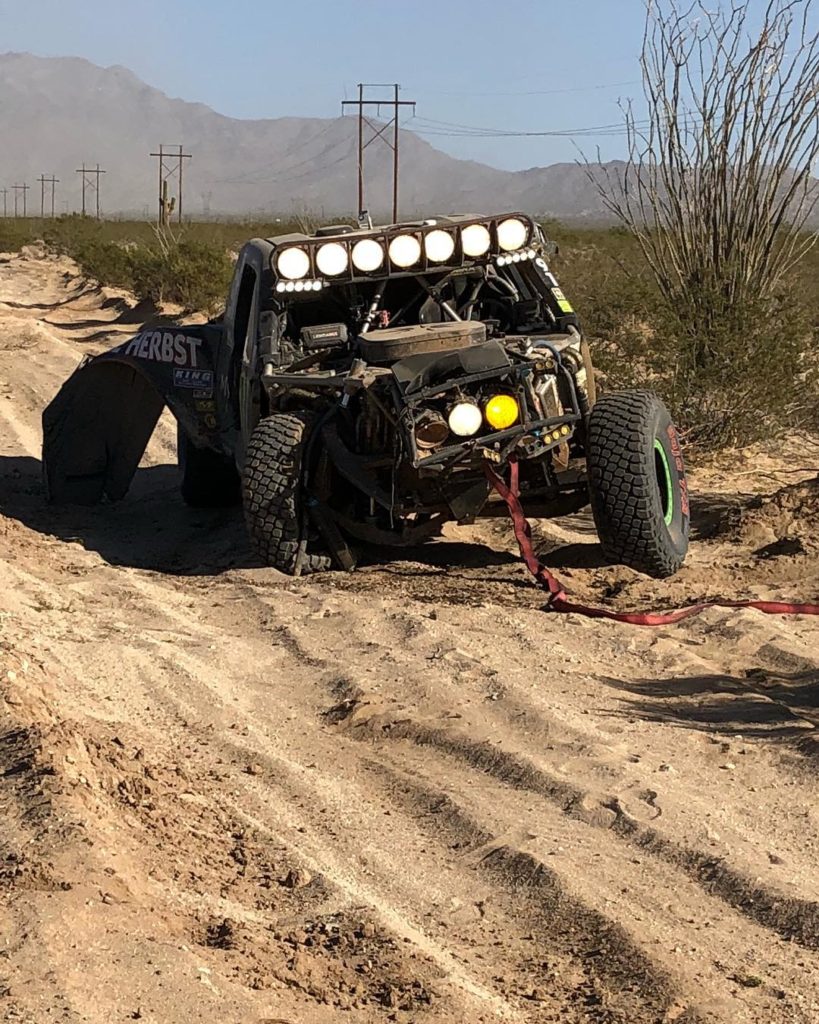 At this point we all run over to start directing race traffic to keep this from happening again. After a long while one of the BITD people make it to us. He says, "Sorry my truck got stuck in a ditch and I just walked a mile and a half to get here." No problem, everybody is good, the Helicopter just took Christian and John to the emergency room. A little while longer another BITD person makes it to us and pulls the Herbst truck off the race course. He informed us they would be back shortly to pull us out as well.
I have a very bad headache and ask Vance if he has any aspirin. I check my door bag and nope, just Vicodin… LOL! You know what is better than aspirin when you are stuck in the desert with 2 dead cows and two broken Trick Trucks? Yep, you guessed it, Vicodin! LOL!
So, after a long while another guy, who was riding in the helicopter, whom we hadn't had the pleasure to meet yet walks up and I tell him what was going on. I also tell him they probably won't come back for him, but I will make sure he gets out of there. I'm joking around with him and say, "I don't know how long it will be until they come back for us, but at least we have two cows to eat before Vance and I put you on the menu." LOL Vicodin! YES! But he says, "Don't worry they will be back for me shorty." And no shit a few minutes after he said that the helicopter arrives to pick him up. He asked if we need anything and I say water. He brings us back what I am guessing was his lunch from Subway, some water and other goodies. Thank you so much! As luck would have it we were out there for about 7 hours… Still want to be a desert racer…? During that time I worked on my tan, told Vance "I am going to go stick my hand in that cow and paint bloody war paint on my face", I told him I was going to put the little cow across my back and start walking down the side of the race course, and I wanted to moon McMillin as he raced past but he was faster than I could get ready for, LOL!
We did take some time to pose with the road kill before we finally saw Rescue 11 again to tow us back to pit 2. They get us hooked up and tell us they must pull us down the race course for about a mile and a half so put our belts on, LOL … oookkkk.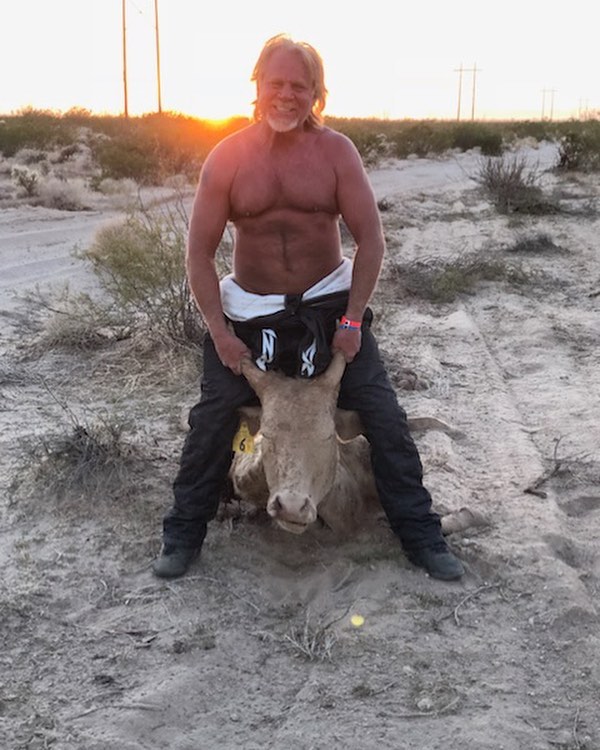 We are off and flying down the race course once again!! I didn't put my helmet on and now I am getting blasted in the eyes with dust and I can't take my hands off the wheel because it's so freaking hard to turn the steering wheel without power steering. It is so hard, and I am worn out, so I look over at Vance to ask for some help, but he is too busy texting… I'm like "Really?! Can I get some help over here dude?!?" He says something like yada, yada, yada, and I say, "I don't give a fuck, lol, help me out!". We make it back to the pits, get loaded up and head back to the hotel for some much-needed rest.
A huge thank you goes out to everyone who helps make my dream a reality for not just me, but everyone involved in the team, and that those who have a helping hand in this racing endeavor.
Polaris RZR, SMG Motorsports, Method Race Wheels, SDG Suspension, Geiser Bros, Kroyer Racing Engines, Torco Race Fuels, Impact Racing, Wolf Designs, Mad Melvin Motorsports, UTV INC, BFGoodrich Tires, Best In The Desert, Best In The Desert Volunteers, My chase crew and everyone who has helped out in any way with our racing program, and lastly YOU, thank you for the support, it means the world to me.